One-on-one care
At Mayo Clinic, the needs of the patient come first. Working with Mayo Clinic Optical, you will find staff members focus on your needs, taking into account your prescription and tying that into what you want from your eyeglasses. They will ask you a number of lifestyle questions that will help them offer you the perfect eyeglasses and lens for every situation. You do not ned to be seen by a Mayo Clinic provider in order to purchase products at a Mayo Clinic Optical Store.
At the end of your time with one of the opticians, you can expect to receive a packet of information that includes your receipts and information about the warranty. We offer a one year warranty on all frames and lenses at no extra charge. This packet will even include the optician's business card, so you can easily contact him or her with any question you may have later.
---
Unique products
Do you want or need a product that you can't find at an optical chain? Let our optical staff know. Mayo Clinic Optical carries many well-known brands but also has brands that are unique and fun. There are frames in materials such as plastic, memory metal, stainless steel, titanium and many more.
If you need a specific product for your prescription, our lab works directly with a number of specialty labs to get you what you need. Our lab staff can fit even the most difficult prescriptions. Mayo Clinic Optical Laboratory has access to a wide variety of lenses and the latest technology to provide the best product for you.
Mayo Clinic Optical offers a number of specialty products including moisture chambers, dry eye shields and ptosis crutches, which help alleviate the symptoms of a number of eye conditions.
Mayo Clinic Optical offers not only the most common contact lens brands but also a number of specialty contacts. The staff is able to fill most current contact lens prescriptions.
---
Quality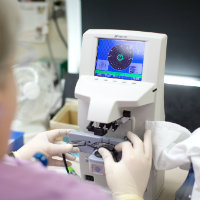 Mayo Clinic Optical will not dispense a product that does not meet our high quality standards. When you receive your pair of eyeglasses, you can be sure it has gone through numerous quality inspections, both at our lab and our optical store.