A complete team
Once you order your eyeglasses or contact lenses, your experience with the Mayo Clinic Optical team doesn't end. Most of the eyeglasses purchased through the optical stores are processed in the Mayo Clinic Optical Laboratory located in Rochester, Minnesota. When your eyeglasses are completed, you will come to the location where you purchased them to have them fitted. Then, you can always come in for free cleanings and adjustments at any location.
---
Service excellence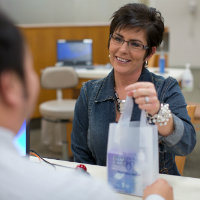 Mayo Clinic Optical approaches eye care as a team and believes your eyeglasses and contact lenses are an important part of your overall care. Mayo Clinic opticians regularly participate in continuing education courses.
Your eyeglasses are an extension of you and each optician is skilled in giving personalized service in order to find the best fit for you. Mayo Clinic opticians will take into consideration your work, lifestyle and hobbies in order to make the best recommendations for your entire eye care needs. Whether you want a brand-new look, or just need to update your prescription, let the opticians walk you through the experience step by step.
---
A helping hand
Sometimes choosing the correct eye care product can be overwhelming. The optician will discuss all of your options in terms you can understand and will make recommendations to create the best eyeglasses for your needs.
Even if you didn't get your last pair of eyeglasses through Mayo Clinic Optical, you're welcome to visit one of the locations. The opticians will adjust and clean your eyeglasses at no charge and answer any questions you may have. If you want to order eyeglasses, Mayo Clinic Optical accepts current prescriptions from providers outside of Mayo Clinic.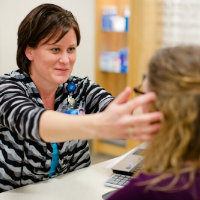 When ordering contact lenses through Mayo Clinic Optical you can be assured that your order is valued. Feel free to contact the staff to place an order using your current prescription. If you have any questions regarding the care of your contact lenses, the staff is willing to help provide answers.